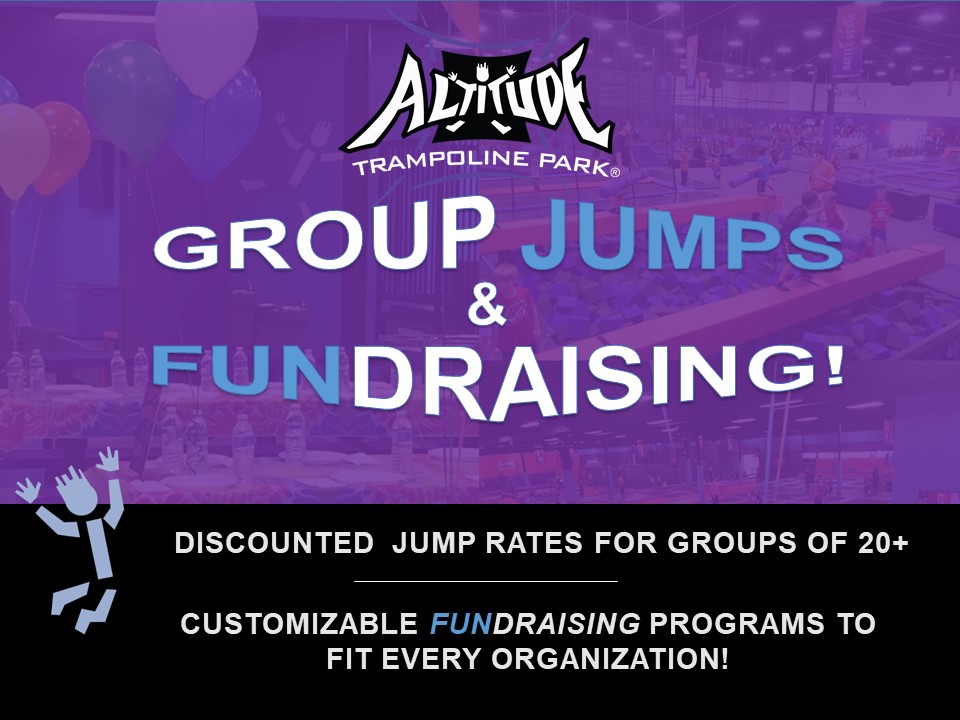 ---
ALTITUDE WANTS TO HOST YOUR NEXT GROUP EVENT!
We will help you organize to make your event special!
​Youth Groups
School Outings
Corporate Team Building
Family Events
Religious Groups
Sports Team Events
Meetups
​
ALTITUDE WANTS TO HELP RAISE FUNDS FOR YOUR NON-PROFIT ORGANIZATION!
We offer Fundraising packages! Your organization can earn up to 30% of sales raised by your event
Fundraising options include:
Group Jump at the park at a reserved day and time

Jump Pass ticket sales at your chosen location and day(s)
Group Events FAQs
Q: What is the minimum number of jumpers for a Group Rate?
A: Our group rates start at 20 or more jumpers.
Q: What determines the price for a Group?
A: Group rates are based on number of jumpers, duration of event, day of the week, and if you would like to include food.
Q: What is included in Group Pricing?
A: Your group pricing includes Jump Time and access to the entire park. Altitude safety socks are required and may be purchased separately.
Q: Are waivers required?
A: Yes, all participants must have a waiver filled out in order to participate in jumping. We will provide paper waivers for your specific group and we ask you provide us with a guest list of attendees. Spectators may fill out waivers at waiver station when they arrive.
Q: Are tables included for our Group?
A: We reserve tables for groups who have chosen to include the pizza option. Groups that have not booked with pizza will have tables reserved based on availability (Monday – Thursday)
Q: Is a Deposit Required for my Group Event?
A: Yes, we require 10% of the total cost of the event within 24 hours of booking the event.
Q: How Early should my group arrive?
A: We ask you arrive 15-20 minutes prior to the start of your event. This will allow us adequate time to check in all jumpers on time.
Q: Will I be charged for jumpers who do not show up?
A: No you will only be charged for the number of jumpers that check in for your event. Large Groups maybe subject to a minimum.
Q: Can we add additional jumpers?
A: Yes, but we ask you to let us know 24 hours in advance so we can make the correct accommodations for you.
Q: Are we allowed to bring our own food?
A: We do not allow any outside food or beverage into the park. All food options must be coordinated through Altitude Feasterville.
Q: What kind of payment is Accepted?
A: We accept cash or credit. Personal checks are not accepted, however we do allow checks from schools, camps, and churches.
Q: Do you rent out the entire facility?
A: Yes, please contact Dawn for details about private events
HERE