Spend this Summer having UNLIMITED FUN with all your friends at Altitude!
Pick your Weekday Summer Pass (Valid ONLY Monday through Friday)
Membership ends on Labor Day (Monday September 5th)
3 options of fun available! Fill out the following form (below) & staff member will be in contact to assist with your purchase.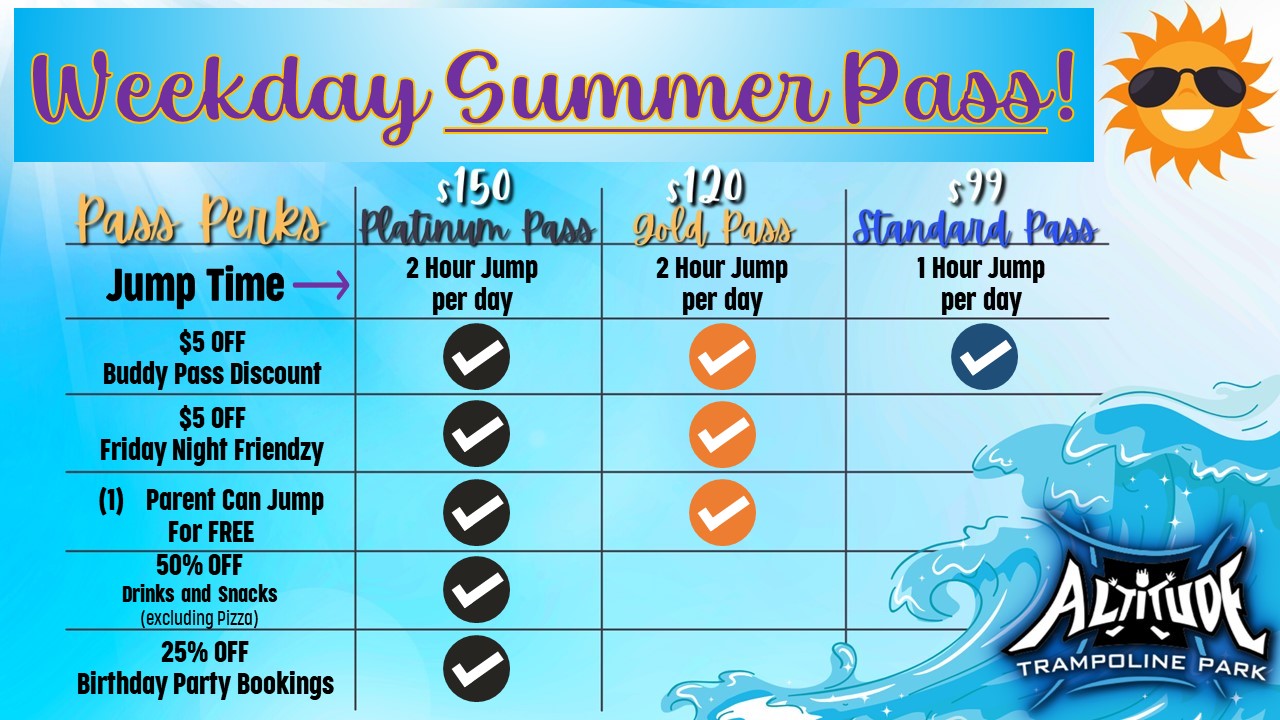 Only Valid Monday through Friday. Cannot use free jump during Friday Night Friendzy. Must present pass upon check in. All pass perks are ONLY available when you are an owner of the Summer Pass. Pass perks expire when the pass expires on September 5

th

2022 (Labor Day).
Membership FAQs
Q: HOW CAN I PURCHASE AND ACTIVATE A MEMBERSHIP?


A: Memberships must be purchased in person at the park.



Q: DOES MY MEMBERSHIP HAVE BLACKOUT DATES?


A: Yes, memberships are only valid Monday - Friday and if there is a special event in the park. These dates and events will be posted in our Calendar.



Q: ARE SPECIAL JUMP EVENTS INCLUDED IN MY MEMBERSHIP?


A: Discounted events like Friday Night Friendzy, Junior Jumper Time or any other specials are excluded. However, jumping for members during those times is not restricted. Remember that your membership includes jump time only and some discounts on concessions, depending on the type of membership.



Q: CAN I USE MY MEMBERSHIP AT OTHER ALTITUDE TRAMPOLINE PARK LOCATIONS?


A: Currently, memberships are only valid at the location where they were purchased.



Q: DOES EVERYONE IN MY FAMILY NEED A MEMBERSHIP?


A: Yes, each membership is on an individual basis. Each member of your family will require their own membership. Memberships are non-transferrable, you cannot share your membership with anyone.
Q: HOW MANY TIMES CAN I VISIT WITH A MEMBERSHIP?


A: Depending on the type of membership purchased, you can visit the park once a day for 2 hours or for 1 hour at a time. No re-entry allowed.​
Q: CAN I USE MY MEMBERSHIP TO PARTICIPATE IN A BIRTHDAY PARTY?


A: No, you cannot use your membership to attend a birthday party.​



Q: DO I HAVE TO SIGN A WAIVER?


A: Yes, everyone who jumps on our trampolines is required to sign a waiver. If you are under 18 years old, a waiver must be signed by a parent or legal guardian. Online waivers remain valid for one year.
Q: CAN I CANCEL OR GET A REFUND ON MY MEMBERSHIP PASS?


A: Once a membership is activated no refunds can be issued.